Find The Right Custom Reusable Grocery Bags & Totes Your Customers Will Love
Order Now
Need Promotional Custom Reusable Grocery Bags & Totes? and want to find a Non-woven fabric bags wholesale manufacturer? then design your own personalized tote bags template to fit your brand, Print your company logo or something else( you can choose colors, styles, sizes and much more!) on the shopping bags, you are on the right way. All of our Eco-friendly & Green wholesale tote bags can be easily customized for your every need.
1. Why It's Time for your company to Switch from plain plastic bags to custom imprinted reusable grocery totes and bags?
Here are a few reasons for choosing custom tote bags:
1.1 In any case, choosing biodegradable & Reusable customized Non-woven bags is far better than plastic bags for the environment.
Custom promotional reusable shopping bags are a budget-friendly way to help the Environment. Canvas and cotton tote bags as well as non-woven Polypropylene fabric bags are all made of organic biodegradable recyclable materials.
By using these Recyclable Bags & Totes you can reduce your company's negative impacts on our planet, while non-biodegradable plastic shopping bags are a huge environmental problem, and they tend to disrupt the environment in a serious way. Paper bags maybe a "better" and green solution, but we need more trees, energy and water to produce them, that's not an earth-friendly approach.
As more and more countries and regions start banning plastic bags to save the environment, custom printed reusable shopping bags should be the perfect alternative to plastic bags.
1.2 Custom Promo Items Make Your Brand More Memorable.
With nearly 6,000 impressions, custom logo reusable & recyclable bags generate more impressions than any other promotional items in the U.S, According to 2018 Ad Impressions Study. A cheap wholesale Non-woven shopper tote bag is typically around the $1.00 range anyway, with six thousand impressions, that means you would only pay less than $0.17 to get 1,000 people who see your brand. While the Google Search Ads CPM(aka Cost Per Thousand Impressions) is $116.91 in Q1 2018.
If you only have a low budget, promote your brand with custom printed bags & totes is worth more than online impressions. Especially when you are giving custom promotional giveaway tote bags at a trade show. Plus, promote your business and marketing with environmentally friendly customized reusable bags & totes is really working very well.
1.3 Custom Logo Polypropylene Reusable Tote Bags Can Create a Better Customer Experience.
When it comes to custom printed bags, there are several reasons for the reusable grocery tote bags become more and more popular. The most important point is that they are useful and affordable. Most customers choose Non-woven large reusable shopping bags because they are stronger and larger than plastic bags, and they can carry far more groceries at once.
Customers will use high-quality reusable bags for many times and never throw them away until they're broken. There are many suppliers of wholesale reusable tote bags would like offer low prices and quality products(Homesgu.com CAN supply wholesale low-cost recyclable shopping bags customized for your needs and discount PP fabric tote bags Under $0.5/piece.), and these cheap personalized tote bags are available in custom sizes and styles. So you will get the attention of your target audience with affordable custom logo printed grocery shopper tote bags in bulk. And your customers can get rid of environmentally unfriendly plastic bags with comfortable & reusable Polypropylene economy tote bags.
2. HOMESGU.COM Provide High Quality And Fully Custom Printed Wholesale Reusable Grocery Bags To All Of Your Marketing & Outreach Needs.
2.1 We Offer Free Reusable Tote Bags Art Design Services.
If your company is finding a High Quality manufacturer of wholesale reusable custom grocery tote bags around the world, HOMESGU.COM should be the one you are looking for! HOMESGU.COM is part of Guohong Packaging Co., Ltd. We have an in-house professional designers team who can offer FREE tote bags art design services, they are experts in this field, and good at designing custom printed recyclable tote bags, This Service Free To Everyone And No Additional Cost.
Thank to their hard work, we have the ability to fully custom reusable shopping tote bags. This means you can choose full colors, materials, styles, sizes and other design options that you wish to apply to your custom reusable tote bag.
The designers will give you a hand to create one when you don't have a custom reusable tote bag design template. You need to provide us with your unique brand logo or artwork image file which you want to print to your wholesale personalized tote bags. In addition to that, you will be allowed to design tote bag template yourself, and then send us the art design file which was ready to imprint on your shopping tote bag. But all art design files should be in one of the following formats: PSD, SKETCH, PNG, JPG, AI and CDR, and we will do the rest.
Why do we attach so much importance to reusable tote bags' customization? That's because it is a perfect solution to promote your brand for marketing and make your brand stand out.
Reusable Shopping Bags Type Selection: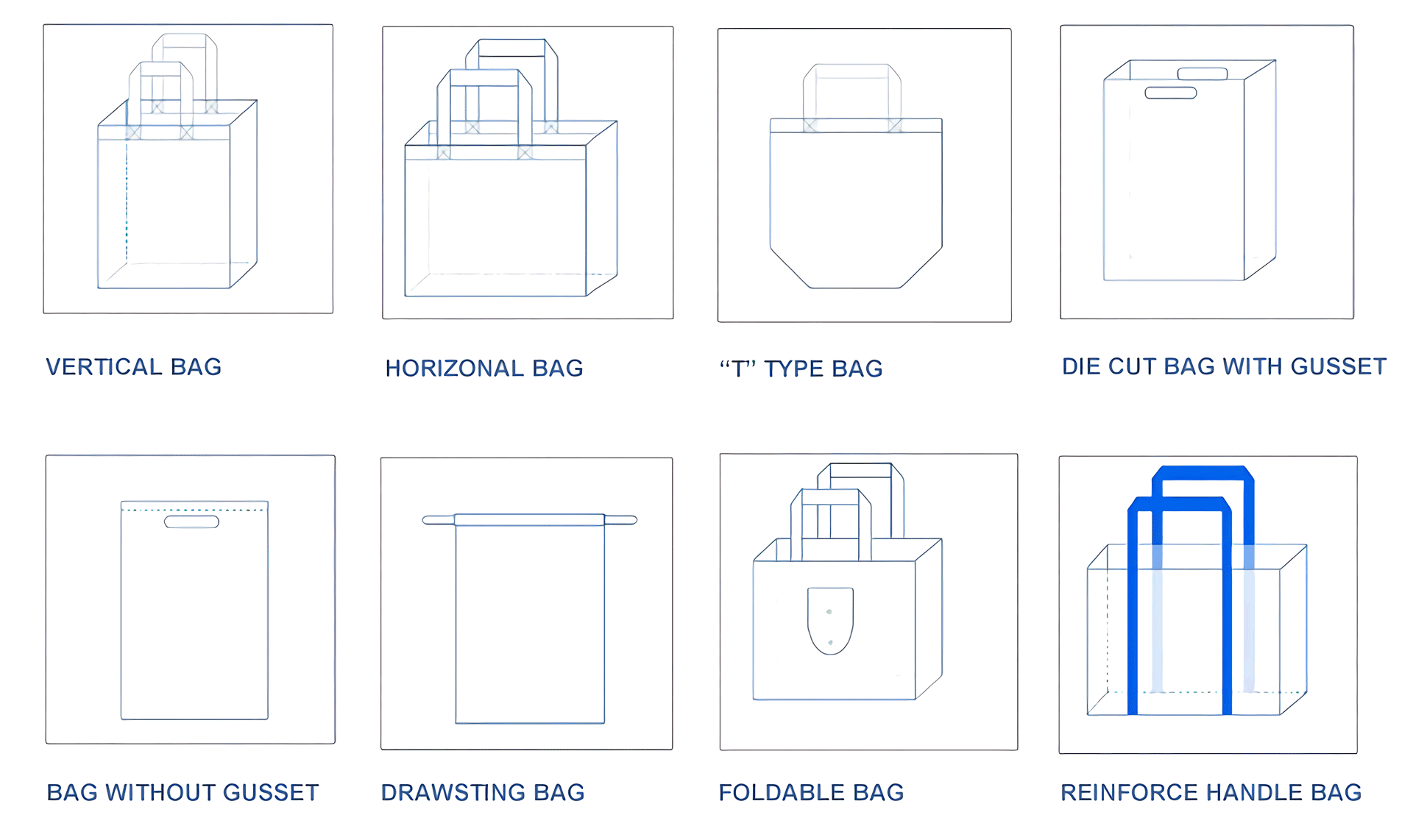 2.2 You are free to Choose your printing method.
We can offer these printing method: Gravure printing, Silk screen printing, Lamination, Offset printing, Heat transfer ect.
2.3 Tips For Starting To Custom Design Reusable Grocery Tote Bags.
No matter what kind of wholesale reusable tote bags you need to customize, before you start to design a tote bag template, there are some things that you should know.
1. First things first, you must identify where your target market is: companies, educational institution, weddings, marketing & promotions, trade shows, or others. Target customers determine the color and style of your custom reusable grocery tote bags.
2. Consider what is the size of your wholesale custom tote bag and how much weight it will need to carry. For instance, most shoppers prefer to select large and lightweight reusable shopping tote bags rather than plastic grocery bags, and the custom printed tote bag imprint area should big enough to include your company logo or artwork image.
2.4 Request a sample, Please feel free to Try Before You Order
We are happy to to send you a FREE sample of any product in HOMESGU.COM you are ready to order. Just choose an tote bag that catches your eyes and Request a quote, or Chat with Our friendly team Online!
2.5 We have supplied thousands of companies and organizations just like you.
Our custom wholesale reusable grocery tote bags are recognized worldwide for Quality and Competitive price by high profile clients, such as Wal-Mart, Amazon, Coca-Cola, FANC, Unilever, PUMA, ONLY, Carrefour, Disney, P&G, Aldi, Huawei, Target, Li&fung, and more. At the same time, we provide small businesses with cheap products of the same quality.
With our Free Art Design Services, you can get satisfactory reusable shopping tote bags you need for your marketing or business.
3. Start Customizing Your Own Wholesale Reusable Tote Bags Today!
You can fill out the form in Request A Quote page, our professional sales teams will response to your request soon. Usually, it's less than 12 hours.
Of course, If you would like to learn more about how to customize the wholesale reusable tote bag, Chat with Us Online is always welcome!
CONTACT US TODAY FOR A CUSTOM ORDER!